Matthias De Vogel created his textile lab and studio Fault Lines in 2015. Here he experiments with traditional ideas of textile art and reinterprets this in a new way, and with succes! Check out his latest publication in Elle decoration UK.  But how did he start this special craft and why weaving!?
We wanted to know more about him and his art, so we did a Q&A with him before exhibition 'between the lines'  starts at The Modern – Amsterdam.
Interview
We know you were born in The Netherlands, but you lived a very international life right? How come?
Once I completed my fashion design degree at the Art-school in the Netherlands, I had a enormous craving to explore and discover the fashion industry. I immediately moved to Paris and discovered a vibrant, diverse and cultural city.
After 15 years, I was ready for a new adventure and decided to move to San Francisco. Its iconic history and diverse population became a huge source of inspiration for me.
Immigrating to a different country forces you to let go of what you know and to become more accepting of the unfamiliar–culture, food, people. I think it's just fantastic to open yourself up and allow these new experiences to shape you into the person you are meant to be.
How and when did you start making woven-art?
Dancing, design, music, photography, drawing,…. creativity has always been a part of me. I was an artistic kid that enjoyed those creative lessons at school the most.
Art school and some very creative people inspired me and showed me that we can create our own language in any medium that we choose. Having worked so much with fabrics, it just came natural to me to use weaving as a medium to explore my language of shapes, dimensions and surfaces.
Can you tell us what inspires you to make your work?
I can find inspiration almost in everything, but the 3 most important places I go to for weaving inspiration are:
All my professional inspiration trips, from visiting a creative community at Euroville in India, to a brainstorm session at a graceful zen garden in Kyoto. These creative places I've visited are now all a part of this endless inspiration source I can always dive into.
Besides this, Also the technical part of weaving plays a substantial role in finding inspiration for each project. Fault Lines is a laboratory that allows me to experiment with ancient weaving techniques from Danish cord weaving, Japanese Leno weaving, Scandinavian Rya weaving to the African mud cloth textiles.
And It might be the down to earth Dutch in me, that makes me feeI very connected to the works of Minimalist artists like Ellsworth Kelly, Donald Judd, Sol le Witt and Josef Alberts. Every time I see their work in a museum it just touches me and inspires me in unexplainable ways.
Why 'between the lines', what does it mean? 
"Between the Lines" asks you to look for or discover a meaning that is implied rather than explicitly stated.
The Modern is not the first to showcase your work, where did you exhibit before?
In the past 3 years of starting the woven art works, I've been featured around the world in hotels, galleries, solo shows, stores, etc. Specifically my work has traveled to the following destinations:
Marfa, Texas: Mano Mercantile and the Capri
Tokyo, Japan: CPCM
London, England: solo show with Yarn Collective
Cologne, Germany: Bieschenbach art gallery
Amsterdam, Netherlands: CBK and Mobilia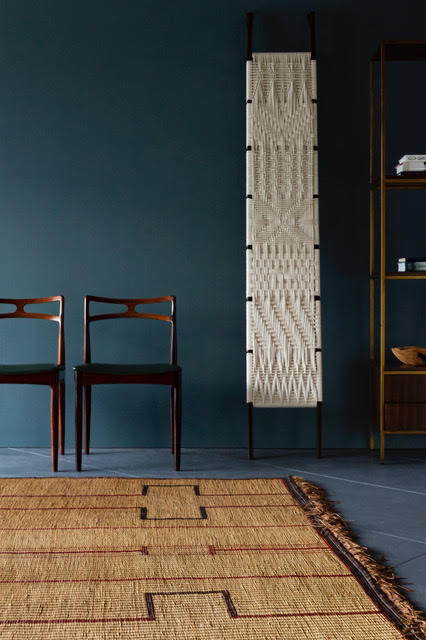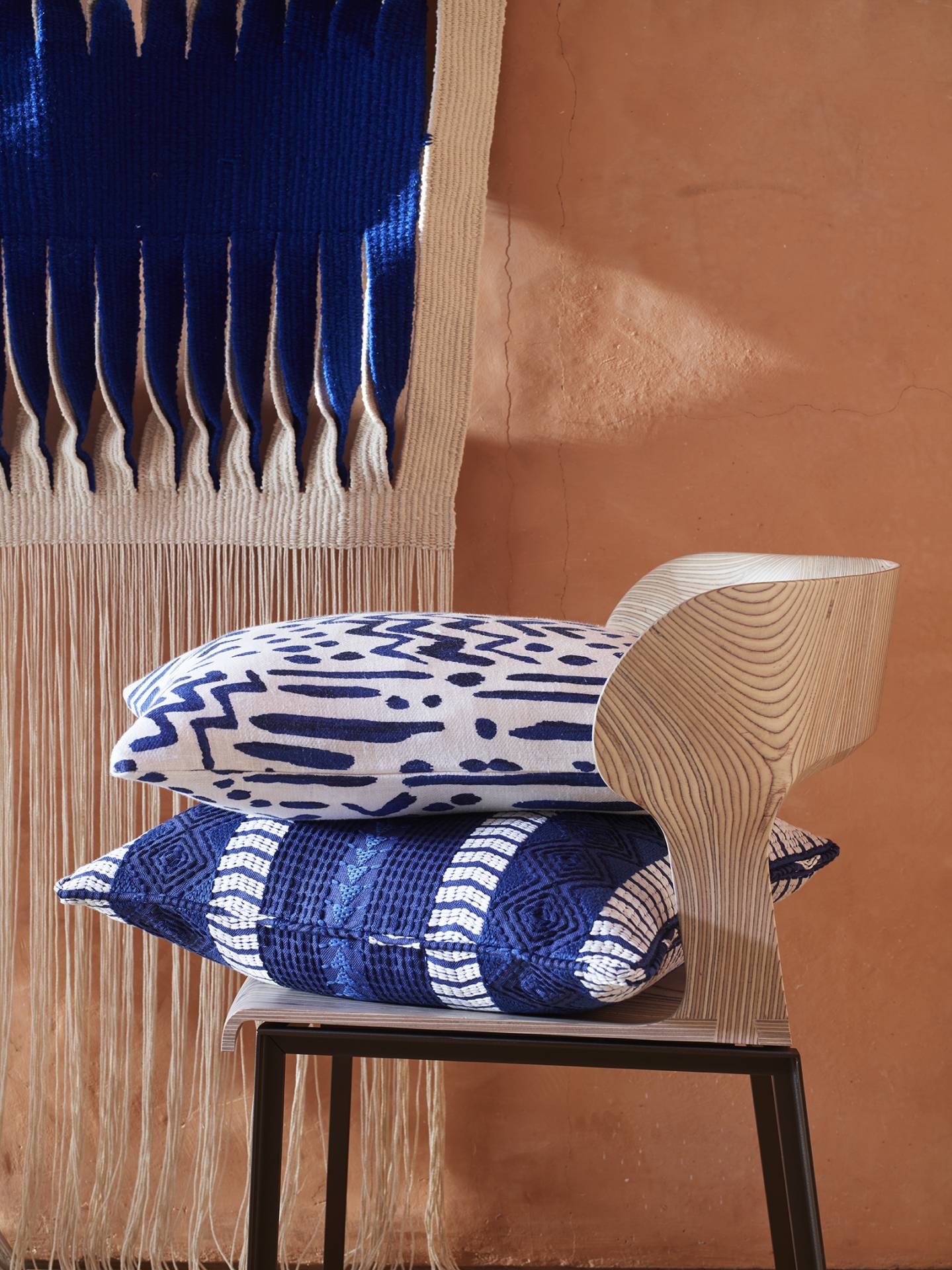 Why did you choose The Modern for this exhibition?
When I walked into the Modern for the first time, I immediately felt a connection and a shared admiration for timeless design.
My work, combined with the selection of furniture at the Modern, is a fantastic match and really seems to bring out the best in each other.
What is your dream for the future?
I really like to live in the moment and take things day by day. I love the unexpected turns and projects that come along the way for Fault Lines Design. I think long term, if I can educate people on the beauty and history of weaving through my work, I'll be extremely happy.